MCPC Supports STEAM Education in Pickens County Schools
April 27, 2017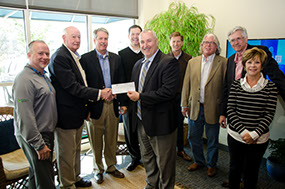 As part of their ongoing commitment to supporting STEAM (Science, Technology, Engineering, Art + Design, Math) education initiatives, Manufacturers Caring for Pickens County (MCPC) proudly donated funds to purchase art boards for the School District of Pickens County.
March 2017 was the first Youth Arts Months for Pickens County students. County art teachers alongside the Pickens County Museum of Art and History and the Pickens County Cultural Museum worked to expand the program to feature art at each of the four high schools. To properly display the recognized entries, art boards were required and MCPC quickly volunteered to help fill the need.
"MCPC was an early proponent of STEM education awareness in this area. Now that the definition is expanding to include art and design, we hope to encourage innovation and support the visual aspects as well," said Tom O'Hanlan, Chairman of MCPC and CEO of Sealevel Systems, Inc.
Artwork is currently on display at the local high schools and the boards will continue to be used in high-traffic areas throughout the school year.
MCPC Announces Support for Upstate SC Alliance
March 30, 2017
The Manufacturers Caring for Pickens County (MCPC) today announced their unqualified support for Pickens County rejoining the Upstate SC Alliance.
Tom Strange, Sr. Director of Research and Development at Abbott (formerly St. Jude Medical), said, "The reentry of Pickens County to the Upstate SC Alliance represents a broad recognition that Pickens County needs to return as a member in full, which will allow the county to reap all the benefits other counties currently receive."
It is the hope of MCPC that the county will give Upstate SC Alliance time to generate the leads that can produce new business opportunities.
Tom O'Hanlan, Chairman of MCPC and CEO of Sealevel Systems, said, "This will be like any investment and it will be critical that the county not look on this as something that can provide immediate benefits in a few months, but that can produce robust growth as the emerging business opportunities can be guided to available land and buildings present or now being prepared."
Michael Fee, Executive Vice President of Reliable Automatic Sprinkler, added, "We look forward to working with and supporting the Pickens County Council in future economic developments to better all the citizens of our great county."
Manufacturers Caring for Pickens County announced Distinguished Service Award
January 10, 2017
On Monday, January 9 the Pickens County Legislative Delegation held their 2017 annual public meeting at the Six Mile Town Hall. Delegation members attending were Senators Thomas C. Alexander, District 1, and Rex F. Rice, District 2; House Members, Neal A. Collins, District 5, David R. Hiott, District 4, and Gary E. Clary, District 3. The public meeting provides a chance for the Delegation to receive input from organizations and the public through presentations and comments.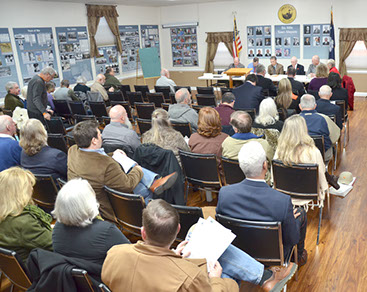 Manufacturers Caring for Pickens County announced that the Distinguished Service Award for 2016 was awarded to Michael Batchelor for his leadership role in partnering to launch the Cancer Association of Pickens County.
Tom Strange, director of research and development, St. Jude Medical, explained that by acting on an opportunity that was brought before the board by the Greenville Cancer Society to find a way to bring equivalent services to Pickens County, Batchelor was instrumental in leveraging the purchasing opportunities and space at the Palmetto Baptist Easley Hospital. Now the Cancer Association of Pickens County exists to enable Pickens County residents to obtain the goods and services previously available only to Greenville County residents. Batchelor's suggestions were taken up by the Greenville Cancer Society as well to save their organization over $100,000 per year on goods when purchased through the Greenville Health System. For his tireless efforts to connect the critical parties together and help make the Cancer Association of Pickens County a reality, MCPC will donate $1,000 to the charity of his choosing in his honor.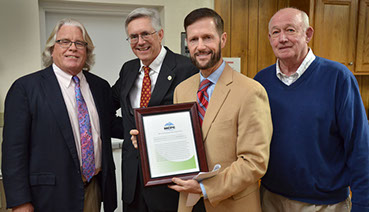 As the presentation concluded Batchelor thanked MCPC and the Delegation and noted this award has significant meaning to him, because the town of Six Mile was the site of the first hospital in Pickens County, established in 1925 by Dr. Peek.
The new Cancer Association of Pickens County will offer direct services to cancer patients and their families, including:
- Help with paying for prescriptions
- Transportation to medical appointments
- Wigs and medical supplies
- Nutritional supplements like Ensure and PediaSure
- Medical equipment, lymphedema supplies and ostomy products
- Respite care and emergency assistance with paying a house payment or utility bill
- Free support groups and one-on-one counseling
Tom O'Hanlan, chairman of the board of directors at Baptist Easley Hospital and CEO of Sealevel Systems, Inc. said, "Working as a team Baptist Easley, Pickens industrial leaders, local donors and companies contributed to make the Cancer Association of Pickens County a reality."
Manufacturers Caring for Pickens County was formed by a group of business leaders to advocate STEM education, economic development and social benefits impacting quality of life and growth in Pickens County, South Carolina. The group's mission is to reach out to the Pickens County community and to enhance, develop and enrich the county's socioeconomic values and conditions. Download Press Release
Straight From High School to a Career
By KATHERINE S. NEWMAN and HELLA WINSTON
APRIL 15, 2016

CANDIDATES from both parties have been talking a lot about the loss of American jobs, declining wages and the skyrocketing cost of college.
But missing from the debate is the fact that there are hundreds of thousands of "middle skill" jobs in the United States that are — or soon will be — going unfilled because of a dearth of qualified workers. Employers complain that electricians, pipe fitters, advanced manufacturing machinists, brick masons and radiology technicians are scarce. More than 600,000 jobs remain open in the manufacturing sector alone. These are jobs that provide a middle-class wage without a traditional four-year college degree.
American high schools once offered top-notch vocational and apprenticeship training, preparing young people for jobs...
Read about Manufacturers Caring for Pickens County and Pickens County Career and Technology Center in the full article at "Straight From High School to a Career" from The New York Times.
Building an Educational Pipeline to Create a
Skilled Workforce
Upstate manufacturers seize opportunity.
In the Upstate, industries are heeding the call to raise awareness for manufacturing careers.
An integral part of the SC Technical College System, Apprenticeship Carolina™ has worked with nearly 200 companies across Upstate South Carolina to register demand driven apprenticeship programs in hundreds of occupations with the US Department of Labor. Although the majority of Upstate SC apprenticeship programs have been registered in the manufacturing sector, other industries including health care, transportation, distribution, energy, utilities and construction trades have benefited from this critical "earn while you learn model," according to Carla Whitlock, Senior Apprenticeship Consultant – Apprenticeship Carolina.
The fastest growing segment of apprenticeship has been the inclusion of youth apprenticeships as a standard for creating a workforce pipeline by incorporating high school juniors and seniors into the workforce, Whitlock added. These students not only graduate from high school with a diploma, they may also receive credit toward their associate's degree at a technical college, certifications through education and a nationally recognized credential from the Department of Labor.
Outreach has proven a successful model for Manufacturers Caring for Pickens County (MCPC), a consortium of nine advanced manufacturers who included educators at inception, according to Tom O'Hanlan, chairman of the group and Founder & CEO of Sealevel Systems, Inc.
Read the featured blog post "Building an Educational Pipeline to Create a Skilled Workforce" at upstatealliance.com
Gettys Middle School takes First Place Middle School Engineering Competition.
Gettys Middle School sent a group of 7th grade STEM students to the TSA TEAMS Middle School Engineering competition hosted by Clemson University and Tri-County Technical College in February. The competition included a multiple choice test, an essay portion, and a design/build challenge. The GMS team took first place and qualified for the national competition. We want to wish a big congratulations to Gabi Beasley, Sydney Thompson, Trevor Kelley, Aiden Vogel,Michelle Becerra and Garreth Moore for this awesome accomplishment and can't wait to see how they do next year!
Upstate pulls in $1.3B in investment in 2015
by Ashley Boncimino
www.upstatebusinessjournal.com
For calendar year 2015, the 10-county Upstate region attracted just over $1.3 billion in capital investment commitments associated with nearly 6,000 new jobs. Projects ranged from the hundreds of millions – such as the $104.4 million Dollar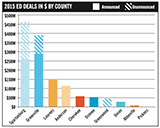 Tree project between Spartanburg and Cherokee counties – to projects of just a few thousand dollars.
The top three grossing counties by announced and unannounced investment dollars were Spartanburg, Greenville and Laurens counties respectively, though top job creation counties were Greenville, Spartanburg and Anderson counties respectively. Spartanburg, Greenville and Greenwood counties chose to disclose 2015 project commitments that were not formally announced by S.C. Department of Commerce.
Two 3D Printers Donated to STEM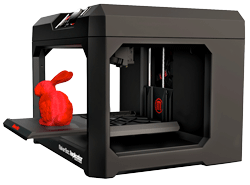 Middle school students in Pickens County will soon have two 3D printers to use in their STEM (Science, Technology, Engineering, and Mathematics) studies. The 3D printers are a donation from Manufacturers Caring for Pickens County, a non-profit whose goal is to enhance, develop, and enrich socioeconomic values and conditions in Pickens County. The printers have a combined value of $5,000.
"MCPC is proud to play a role in exposing the future generation of enginerrs, scholar technicians and designers to real world solutions'" Said Tom O'Hanlan, MCPC chairman and founder of Sealevel Systems Inc. in Liberty, SC.
Getty Middle School will be the first school to integrate the technology into the classroom. Teacher Jonathan Scrivner's Gateway to Technology class will be the pilot program, before it can be scaled to each middle school in the district.
"GMS is really excited about this opportunity and would like to thank MCPC for such commitment to enriching the engineering experience for our students," Scrivner said. "After seeing a few 3-D print samples provided to us by MCPC, the students are really stoked at the thought of printing some of their own work. This will play an important role in helping our students link the engineering curriculum to real world applications. Having such a supportive community to make these opportunities possible proves a priceless asset to our students. We cannot wait to put these to work and see them in action!"
"3D printing is definitely the future and many of our member companies are already using it for prototyping parts," O'Hanlan said.
"The STEM program at Gettys is dedicated to offering students truly authentic project-based learning activities that have outstanding support from groups like the MCPC," said Mike Cory, principal at Gettys Middle School. "The support of manufacturers in Pickens County offers our students the very best in becoming career-ready citizens and it provides our students with a great advantage in their education and future career goals."
Download This Press Release PDF